Here is China Steel Crane Rail Manufacturer talking about Wheel brake heat load test.
If you have any idea about Crane Rail, welcome to contact us and discuss.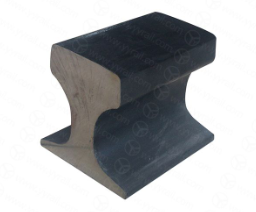 Wheel Brake Thermal Load Test The purpose of this test can be varied, and the test methods vary according to their purpose. The main conclusions are as follows:

1. Test of resistance to thermal cracking of wheels. In order to understand the thermal crack resistance of wheels of different sizes and materials, it is necessary to apply multiple emergency brakes on the wheel on the 1:1 brake test bench and simulate the continuous towing brake on the long ramp. The test content is to test the car. The thermal stress of the spike plate and the expansion of the hot crack of the wheel are mainly observed.
2. Determine the allowable braking power limit for the wheel. In order to properly formulate train braking specifications, it is necessary to consider the wheel's ability to withstand emergency braking and long ramp braking. Therefore, it is necessary to perform the braking heat load test on the 1:1 brake test bench to determine each The braking power that the wheel can withstand.
a. Emergency braking test: repeated emergency braking of the wheel, by testing the temperature of the wheel tread and performing metallographic analysis on the tread surface of the tested wheel, thereby assessing the damage degree of the test condition to the wheel tread Determine the maximum brake power allowed for the wheel under emergency braking conditions.
b. Continuous drag braking test: continuous towing braking of the simulated long ramp braking of the wheel, testing the heat and deformation of the wheel web or rim while braking, and determining the wheel can withstand Maximum braking power.
At the same time, Crane Harbor Rail can be offered for you. Looking forward to receiving your inquiry sales@yyrail.com.