Rail joint is also called rail joint bar, rail fishtail plate. As the main rail component, the quality of rail joint has the influence on the railroad line safety. So before you buy rail joints or perform normal maintenance, you have to check the quality and integrity of rail joints. YONGYANG Rail analyzes the causes of rail joint failure based on years of experience in manufacturing railroad fasteners.
Rail joint
Rail joints are used to connect the two ends of rails. Rail joints are more cost effective and easier to install than butt welds. Normally, rail joint fasteners are held together with fishtail bolts, and there are some screw holes in the middle of the rail joint. Rail joint can reduce the impact of wheel to rail, increase the continuity of longitudinal deformation of rail, and improve the smoothness of train operation.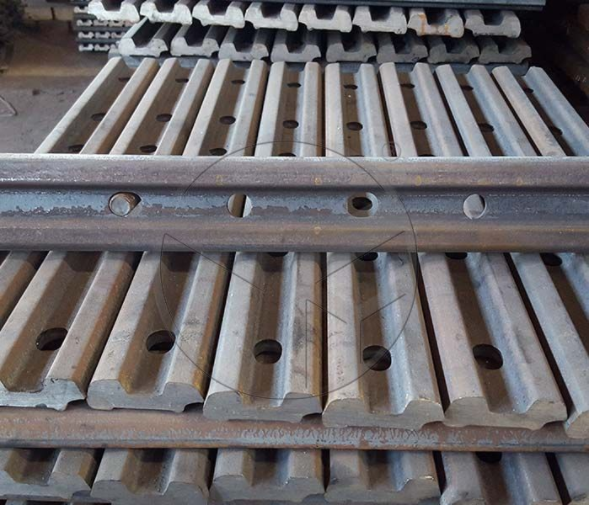 Types of rail joints
According to the rail size, rail joints can be divided into light rail rail joints, heavy rail rail joints. Light rail insulated rail joints are 8kg, 9kg, 12kg, 15kg, 18kg, 22kg, 24kg. heavy rail rail joints are 38kg, 43kg, 50kg, 60kg, QU70, QU80, QU100, QU120.
From the material point of view, steel rail joints mainly use medium carbon steel and high carbon steel. The manufacturing methods of steel rail joints include casting, rolling and forging.
According to international standards, there are UIC, BS, DIN, GB, AREMA, etc. YONGYANG sells rail joints of various specifications and sizes, and welcomes your visit.
Failure causes
1, The cracks on the surface of the rail joint are closely related to the interaction between the steel reinforcement of the rail joint and the rail. In actual working conditions, the rail joint, fishtail bolt and rail end is not a rigid whole. The impact of the wheel, the existence of the rail gap will lead to the rail and rail joint compaction, so that the rail joint deformation.
2, The season is another reason for the failure of the rail joint. From the use of rail joints, winter rail joints fracture than the other three seasons are more.
Rail joint fracture may be related to the change of rail gap in winter. The increase of rail gap will improve the tensile stress of rail joints, and the additional stress will lead to the increase of rail joint failure.
3, In addition to the two factors we mentioned above, some other reasons will also lead to the cause of the failure of the rail joint. Some special-purpose rail joints, such as compromise rail joints, tunnel rail joints, due to the more complex state of stress, their maintenance is more difficult.
We can provide various kinds of fish plates for our product 8-30Kg Light Rail, 38Kg-75Kg Heavy rail, QU70-QU120 Crane rail. Send us a message to and make cooperation today, we'll do our best to cater you.