Product Parameters
QU100 crane rail mainly used for runway of overhead crane in the port and in the factory.In china, Crane rail includes QU70, QU80, QU100 and QU120. which also called ISCR70, ISCR80, ISCR100 and ISCR120 Crane rail in India. In russia, it called KP70, KP80, KP100 and KP120 Crane rail.
QU100 crane rail is mainly used in crane industry. QU100 rail can be also used for large-scale projects, terminal hoisting containers, and laying of transportation lines for large machinery and equipment etc., and it's dedicated for gantry cranes. Crane rails are designed for carrying heavy loads and are used in the laying of crane track for port building.Compared with the railway's heavy rail, crane rail height is low and head width thick waist size is bigger.
If you're looking for Crane Rail Supplier and Manufacturer in China, welcome to consult us. Yongyang could also supply other crane rail specifications, like QU70 rail and QU120 crane rail.
Features of QU100 Crane rail
1.Steel rail, also called rail track, steel track, is the main component of railway track.
2.Its function is to guide the wheels of the locomotive, bear the great pressure of the wheel, and keep the stability of railway transportation.
3.The rail must provide continuous, smooth and minimum rolling surfaces for the wheels.
4.In electrified railway or automatic block section, rail can also be used as an orbital circuit.
Benefits

Parameters of QU100 Crane rail
| | | | |
| --- | --- | --- | --- |
| type | weight (kg/m) | material | length (m) |
| QU100 | 88.96 | U71Mn | 12 |
| rail height (mm) | bottom width (mm) | head width (mm) | web thickness (mm) |
| 150 | 150 | 100(108) | 38 |
Crane Rail
Size
Rail Height
Bottom Width
Head Width
Web Thickness
Weightkg/m
QU70
120
120
70(76.5)
28
52.80
QU80
130
130
80(87)
32
63.69
QU100
150
150
100(108)
38
88.96
QU120
170
170
120(129)
44
118.10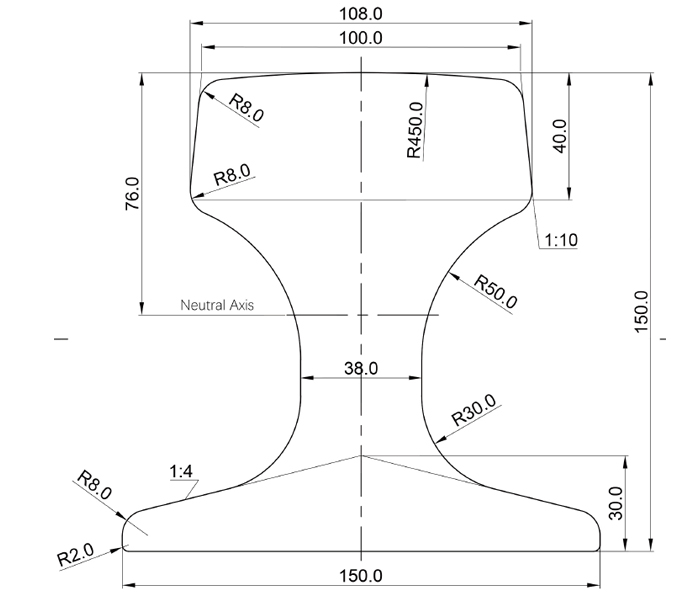 As a professional Crane Rail Supplier, the technical support provided by us can ensure that every rail we deliver provides optimum performance throughout its service life. Welcome to contact us.


Applications
Deliver,Shipping and Service:
Packaging Details: in bundle by steel wire,
Delivery Detail: according to your requirements, the rail can be delivered in container or by breakbulk shipment
Contact us for more information.