Product Parameters
Parameters Of 22kg Light Rail
type
weight (kg/m)
material
length (m)
22Kg
22.30
Q235/55Q
6-10m
rail height (mm)
bottom width (mm)
head width (mm)
web thinkness (mm)
93.66
93.66
50.8
10.72
Light Steel Rail
size
Rail Height
Bottom Width
Head Width
Web Thickness
Weightkg/m
8kg
65
54
25
7
8.42
12kg
69.85
69.85
38.1
7.54
12.2
15kg
79.37
79.37
42.86
8.33
15.2
18kg
90
80
40
10
18.06
22kg
93.66
93.66
50.8
10.72
22.3
24kg
107
92
51
10.9
24.46
30kg
107.95
107.95
60.33
12.3
30.1
Steel rail, also called rail track, steel track, is the main component of railway track. Its function is to guide the wheels of the locomotive, bear the great pressure of the wheel, and keep the stability of railway transportation. The rail must provide continuous, smooth and minimum rolling surfaces for the wheels. In electrified railway or automatic block section, rail can also be used as an orbital circuit.
22kg rail is oriented and load bearing, it is used with the track wheel, to support the weight.The 22kg light rail is mainly used for the laying of temporary transportation lines and light locomotive lines for forest areas, mining areas, factories and construction sites.Want to know more about 22kg light rail? Welcome to contact us.
22 kg light rail Advantages:
Made of high-quality steel

Supported by high-techs

Cost effective with long service life

Various rails according to different industry standards: BS, DIN, UIC, ASCE, JIS etc.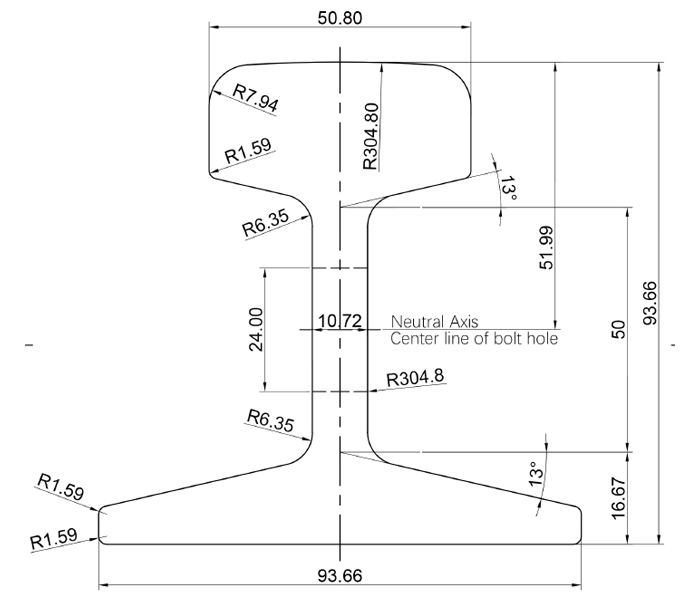 Types of steel rail
1.High-Speed Steel Rail
Characteristics: flat, straight, long, fatigue resistant rails for record breaking performance.
High-speed railways take advantages in security, environmental performance and passengers comfort through the entire journey. Steel rails always used on high-speed track, including predominantly tangent and large radius curves. AGICO can provide consistency for long, flat and straight steel rails with steel integrity, dimensional accuracy to guarantee zero faults and decades of working life.

2.Heavy-Duty Steel Rail
Characteristics: hardened, able to withstand extreme weather conditions.
Heavy-duty railway need corresponding rails which needs to bear high loads and extreme wear stresses. Due to heavy loads on the train, the speeds are low so that wear resistance determines the frequency of steel rail replacement.
3.Mixed Traffic Steel Rail
Characteristics: tailored performance for different grades which based on specific track conditions.
Different loads of trains at different times for their own tasks are running on the mixed traffic railways.
If you have any question on 22kg light rail, please feel free to contact us.