Railroad fasteners are used to fix railroad tracks and ensure the safety of railroad lines. Railway fasteners include railroad fishtail plates (also called railroad joint bars in some areas), railroad spikes, rail clips, rail bolts and nuts, rail pads, spacers, railroad clips, rail anchors, etc.

Railroad fasteners, as the basic components of railroad construction, are required for various railroad projects all over the world. For rail fastener purchasers, the primary question before buying rail fasteners: How to buy cost-effective rail fasteners? Which of the many manufacturers or suppliers of rail fastener systems will suit your requirements? Here are 4 common rules to consider.
1. Quality
Quality remains a top priority, especially for rail track systems, where the quality of fasteners is related to the safety of the rail line. Get railroad fasteners with CE, ISO, etc. certification.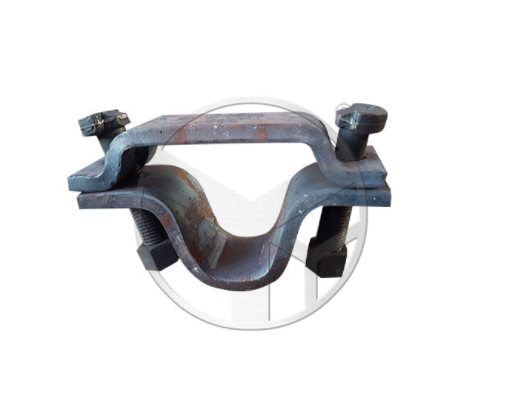 U Shaped Steel Arch Clamp
2. Cost
Cost is another decisive consideration. It is ideal for purchasers to buy railway fasteners at the lowest price. One thing to note is that the right one does not mean the most expensive or the cheapest. In other words, when choosing railroad fasteners from countless manufacturers, one should pay attention to some important factors, including railroad fastener budget, capacity, samples, shipping, service life and other specifications.
3. International standards
The standards of fasteners are diverse and critical. Because of the different national rail standards, there are UIC, AREMA, BS, GB, JIS, DIN and other international standard rail products. Figure out your rail fastener standard and make sure the manufacturer has the ability to provide it.
4. After-sales service
After-sales service is also a core part of railway fastener manufacturer selection. Wherever you plan to buy railway fasteners, please check the after-sales service. Becoming like any problem can be solved perfectly by phone or email, so satisfactory after-sales service must be taken into consideration.
Local distributors are a convenient way to buy railway fasteners, but markups are their drawback. Another solution is to buy online. Enter your keywords like railroad fasteners into Google and you will get a number of railroad fasteners manufacturers, suppliers.
As the largest rail manufacturer and supplier in China, YONGYANG's annual production capacity is 2.2 million tons of steel sections. The main products are light steel rails, heavy steel rails, crane rails, mining I-beams, U-arch steel and high-strength hot-rolled flat steel for automobiles, rail fasteners, etc. Our products are widely used in railroads, seaports, mining industry and tunneling industry, etc. If you need to get a quotation, please contact us as soon as possible, we welcome your inquiry.