Product Parameters
75Kg Heavy Steel Rail is a kind of GB standard heavy rail, it is mostly used for the transportation of larger mine roadways and factory workshops, crane hoisting equipment, and the laying of special railway lines.
In order to better serve the different needs of customers, our technical team is available to provide advice and support, helping every customer to optimize their rail selections to minimize life cycle costs. We supply suitable rail parts, like fish plates, rail clips, bolts and nuts. The technical support provided by Yongyang Rail can ensure that every rail we deliver provides optimum performance throughout its service life.Welcome to contact us.

Specification
Material:U71Mn/U75VX

Weight:74.64Kg/m

Length:12-25m

Standard:TB2344-2012
Parameters
type
weight (kg/m)
material
length (m)
75Kg
74.64
U71Mn/U75VX
12m-25m
rail height (mm)
bottom width (mm)
head width (mm)
web thickness (mm)
192
150
75
20
Heavy Steel Rail
Size
Rail Height
Bottom Width
Head Width
Web Thickness
Weightkg/m
38kg
134
114
68
13
38.733
43kg
140
114
70
14.5
44.653
50kg
152
132
70
15.5
51.514
60kg
176
150
73
16.5
60.8
75kg
192
150
75
20
74.64
The type of rail is classified by kilograms per meter of rail length. For example, steel rails used in China's railways are 75kg/m, 60kg/m, 50kg/m, 43kg/m and 38kg/m.Classified by Application: AGICO supplies crane rail( QU120,QU100,QU80,QU70), heavy rail( 38, 43, 50, 60, 75kg) and light rail( 9、12、15、22、30kg/m).
We can design railroad line as your requirement, and can build mining railway line and crane moving line, also can supply the all workable fasteners.We can supply all kinds of Chinese standard steel rails in stock, can supply other special international standard type of rails, also can make mold to produce special type of steel rails in larger quantity.Welcome to CONTACT US for more information.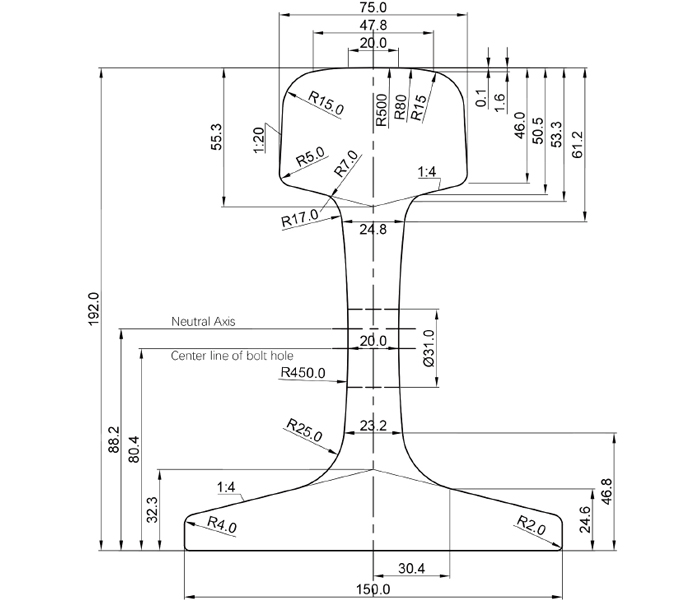 Introduction and application
Steel rail, also called rail track, steel track, is the main component of railway track. Its function is to guide the wheels of the locomotive, bear the great pressure of the wheel, and keep the stability of railway transportation. The rail must provide continuous, smooth and minimum rolling surfaces for the wheels. In electrified railway or automatic block section, rail can also be used as an orbital circuit.
The steel rail in china are divided into Crane rail, Heavy rail and light rail.

Regarding heavy rail, there are 38kg, 43kg, 50kg, 60kg and 75kg.It also called P38 steel rail, P43 steel rail, P50 steel rail, P60 steel rail and P75 steel rail.
The Heavy rail is mainly used for the laying of temporary transportation lines and light locomotive lines for tunnel, seaport, factories and construction sites.