Railroad spikes, also known as road spikes, are a type of railroad fastener used on railroad tracks. What are railroad spikes made of? Road spikes are basically made of these materials, including Q235 carbon steel, 45# (national standard) carbon steel, 40Cr steel, 35CrMoA steel and 20MnTiB.

In terms of function, road spikes are usually used in conjunction with railroad spacers, which can connect rails and railroad sleepers together. Railroad spikes are available in various types such as dog spikes, spiral spikes and flexible spikes according to their usage. YONGYANG Rail is the best choice for you.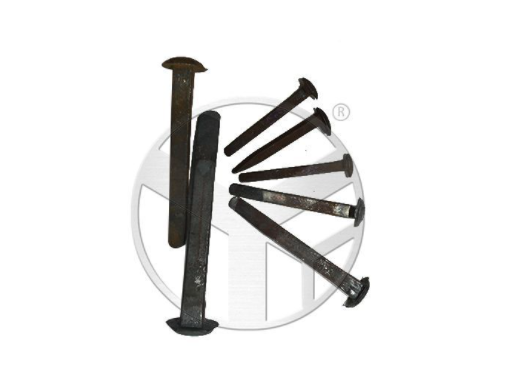 Types of railroad spikes
Generally speaking, railroad spikes can be divided into hand-made spikes and machine-made spikes. There are some typical types of railroad spikes: elastic spikes, dog spikes and spiral spikes. All railroad spikes hold the track in a different way.
Dog nails
Dog spikes were the first railroad spikes. The dog spike has a square shank and a penetration point. The dog spike got its name because of the two lugs on the head. They were mainly used for fastening tie plates and sleepers. Dog spikes are usually made of carbon steel. The point of the dog spike should be chisel-shaped and perpendicular to the wooden tie to prevent it from splitting. In general, qualified dog nails must have a clean surface, no bubbles, overburn, cracks, etc., and the edge is straight, the tip of the dog nail does not allow burrs and creases.
Screw nails
Screw road nails are a common type of railroad road nail, used in railroad fastening system. Screw nails have uniform threads on the shank. The head of the nail can be classified as square head, hexagonal head, double head, etc. Spikes are used for many purposes, such as casting into concrete rail sleepers, as part of railway fastening systems, etc.
YONGYANG Rail can supply nails of various sizes, including Ss series rail sleeper nails, square head nails, hexagonal head nails, double head nails, etc. More specifications are available at Railroad Spikes.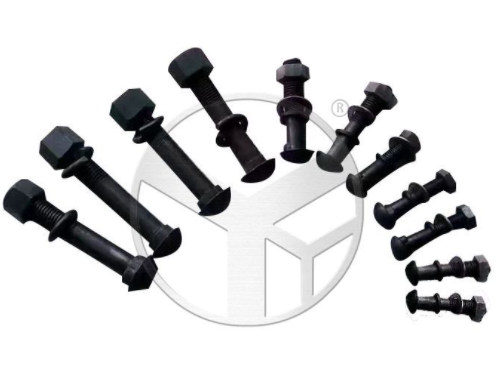 Flexible Rail Spikes
Elastic rail spikes are made of round or square spring steel. Elastic railroad spike has a certain elastic deformation, can greatly reduce the vibration of the rail, so called spring road spike. Elastic nails have better pull-out force than other types of nails. In addition, elastic rail spikes are a good way to prevent loosening and are easy to remove. Today, elastic spikes are widely used in German railroad tracks.
YONGYANG is the largest manufacturer and supplier of rails in China, and our factory has an annual production capacity of 2.2 million tons of steel sections. Our products are widely used in railroads, seaports, mining and tunneling industries, etc. Light steel rails, heavy steel rails and mining support steel are rated as well-known products by the supervision bureau. If you are looking for railroad components suppliers in China, please send us a message.