Yongyang Special Steel (New Area) is open to public recruitment
Release time: 10:03:07, March 22, 2017
Hebei Yongyang Special Steel Group Co., Ltd. is located in Yongnian District, Handan City, Hebei Province, covering an area of more than 1400 mu, 30 kilometers from the center of Handan. The company has modern office facilities and garden style office environment. The surrounding area is equipped with key middle schools, experimental primary schools, provincial demonstration kindergartens, nursing homes, large supermarkets, hospitals, theaters, postal logistics and other service facilities. The 300 mu ecological park provides green pollution-free food materials for staff canteens, and European style villas, high-rise residential communities, and hotel style apartments provide comfortable living environments for staff.
Hebei Yongyang Special Steel Group Co., Ltd. adheres to the enterprise philosophy of "seeking truth from facts, being loyal, filial and honest, governing the factory with virtue, and repaying the society", and adheres to the eight character policy of "being loyal, filial, and trustworthy, benevolent and righteous". Now we sincerely invite talents from all over the world to create a great future together.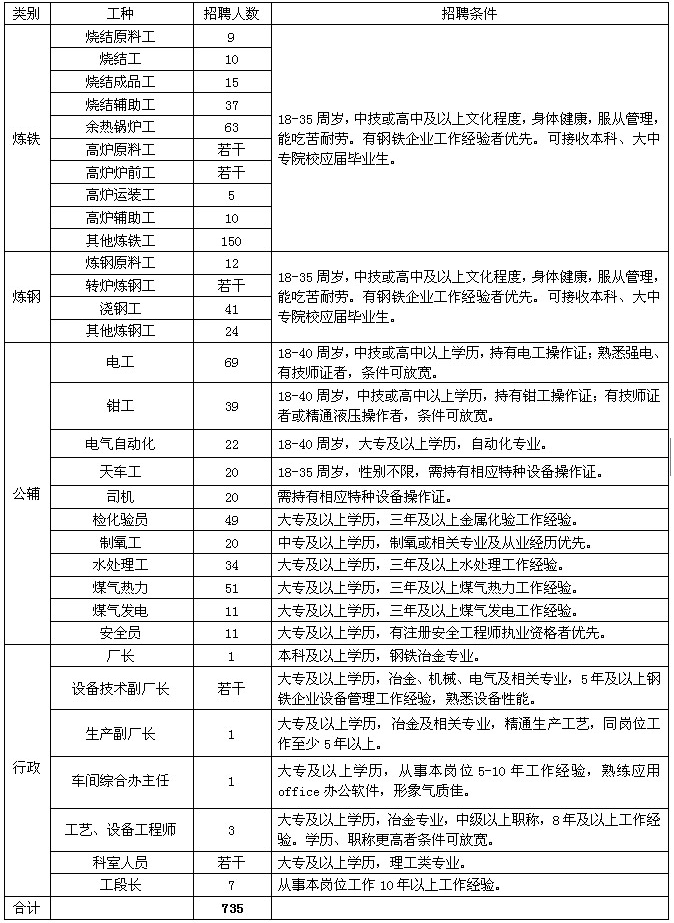 1、 Recruitment requirements and types of work
2、 Training
1. The HR Department of the Company shall arrange training for the qualified candidates.
2. After the training, different posts and positions will be promoted according to the training results, personal training performance and work ability.
3、 Compensation and benefits
1. Long day shift: 8-hour working system; Shift work: 12/24 hour work system, overtime will be charged separately.
2. Sign labor contracts according to the relevant provisions of the Labor Law.
3. After becoming a regular employee, the average monthly salary can reach more than 3000-6000 (depending on the position), three insurances (work-related injury, pension and unemployment) are provided, and a monthly shopping subsidy of 100 yuan is available.
4. Provide dormitory.
4、 Time, place and requirements for registration interview
1. Registration time: March 30-31, 2017.
2. Place of registration: Staff Club of Hebei Yongyang Special Steel Group Co., Ltd. (South Gate).
3. Materials required for registration:
① Original and copy of ID card; ② Graduation certificate; ③ A recent bareheaded photo.
5、 Contact information and route
1. Tel.: 0310-6916211 Human Resources Department; 18031077719 Mr. Dai; 15188906448 Ms. Bai.
2. Resume delivery: yy6916077@126.com
3. Website: www.yygt.com.cn
4. Bus route: Take Bus No. 801 in Handan (Yongnian District), get off at Duliugu Station (or Yongnian Second Middle School Station), and then drive 200 meters east to the north.