2021年上半年,全国工商联对5785家上年度营业收入5亿元以上的民营企业,在科技创新投入进行研究分析,形成"2021民营企业研发投入500家"榜单。研发投入前1000家民营企业的研发费用总额8185亿元,同比增长16.2%,占全国企业研发经费支出的33.6%。平均研发强度2.57%,同比增加0.1个百分点,比全国研发强度高0.17个百分点。研发人员总数106.6万人,同比增长9.3%;人均研发经费76.8万元,比按研发人员全时工作量计算的全国人均经费多30.2万元。钢铁行业有62家钢企上榜,分别是:建龙重工、江苏沙钢、中天钢铁、江苏永钢、金鼎钢铁、敬业集团、南京钢铁、德龙钢铁、河北永洋特钢集团有限公司、广西盛隆冶金、山西晋南钢铁、山东九羊集团、河北普阳钢铁、石横特钢、河北新华联合冶金控股、永锋集团、常熟市龙腾特钢、江苏天工、天津荣程、辽宁方大、邯郸正大制管、山西高义、宏旺投资集团、济源钢铁、新金钢铁、天柱钢铁、川威集团、港陆钢铁、东方润安、辽宁嘉晨、联鑫钢铁、裕华钢铁、唐山文丰、山东鑫华特钢、四川德胜、湖北金盛兰、四川达州钢铁、攀枝花钢城集团、西王集团、攀华集团、万达薄板、文丰钢铁、江苏德龙镍业、唐山盛财钢铁等!
2021民营企业研发投入500家榜单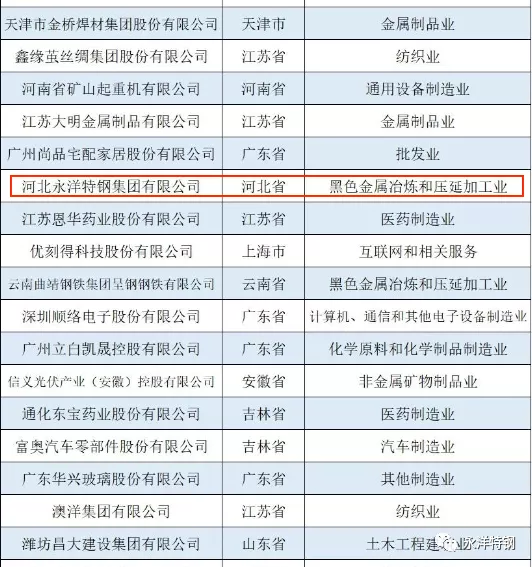 河北永洋特钢集团有限公司是中国煤炭工业支护产品定点生产企业,是中国重汽、东风汽车等国内知名汽车弹簧用钢指定合作伙伴。近年来,永洋特钢坚持走技术创新之路,把研发与装备升级紧密结合,逐步变成了以生产合金结构钢、弹簧钢、碳素结构钢为主导的特钢企业。公司的全自动化轻轨万能轧机生产线于2020年9月6日顺利建成投产,此生产线实现了闭口牌坊式型钢万能轧机装备自主化的突破,打破了同类核心工艺及装备技术长期依赖进口的局面,提升了钢铁服务高端制造业的水平,强有力推动了中国轨道用钢生产工艺及装备技术迈向世界领先水平。
THE LIST OF PRIVATE ENTERPRISES' R&D INVESTMENT IN 2021 WAS UNVEILED, AND "YONGYANG SPECIAL STEEL" WAS STRONGLY SHORTLISTED
Release time: 2021/10/22 17:00:35
In the first half of 2021, the All China Federation of Industry and Commerce studied and analyzed 5785 private enterprises with an operating income of more than 500 million yuan in the last year's scientific and technological innovation investment, forming a list of "2021 500 private enterprises with R&D investment". The R&D expenditure of the top 1000 private enterprises was 818.5 billion yuan, up 16.2% year on year, accounting for 33.6% of the R&D expenditure of national enterprises. The average R&D intensity was 2.57%, a year-on-year increase of 0.1 percentage points, 0.17 percentage points higher than the national R&D intensity. The total number of R&D personnel was 1.066 million, up 9.3% year on year; The per capita R&D expenditure is 768000 yuan, which is 302000 yuan more than the national per capita expenditure based on the full-time workload of R&D personnel. There are 62 steel enterprises in the steel industry, including Jianlong Heavy Industry, Jiangsu Shagang, Zhongtian Steel, Jiangsu Yonggang, Jinding Steel, Jingye Group, Nanjing Steel, Delong Steel, Hebei Yongyang Special Steel Group Co., Ltd., Guangxi Shenglong Metallurgy, Shanxi Jinnan Steel, Shandong Jiuyang Group, Hebei Puyang Steel, Shiheng Special Steel, Hebei Xinhua United Metallurgy Holding, Yongfeng Group, Changshu Longteng Special Steel, Jiangsu Tiangong Tianjin Rongcheng, Liaoning Fangda, Handan Zhengda Pipe, Shanxi Gaoyi, Hongwang Investment Group, Jiyuan Iron and Steel, Xinjin Iron and Steel, Tianzhu Iron and Steel, Chuanwei Group, Ganglu Iron and Steel, Dongfang Run'an, Liaoning Jiachen, Lianxin Iron and Steel, Yuhua Iron and Steel, Tangshan Wenfeng, Shandong Xinhua Special Steel, Sichuan Desheng, Hubei Jinsheng Lan, Sichuan Dazhou Iron and Steel, Panzhihua Steel City Group, Xiwang Group, Panhua Group, Wanda Sheet, Wenfeng Iron and Steel Jiangsu Delong Nickel, Tangshan Shengcai Steel, etc!
List of 500 private enterprises investing in R&D in 2021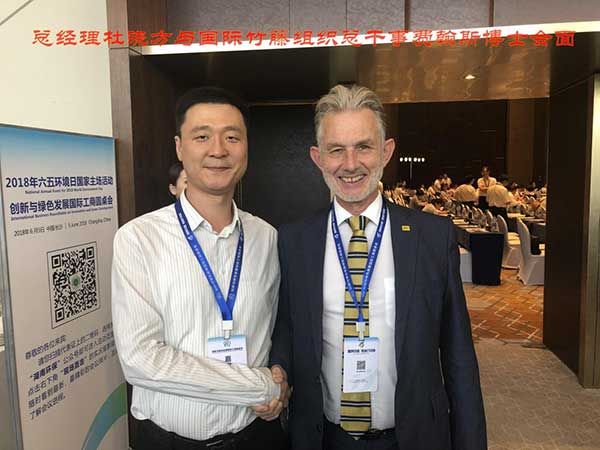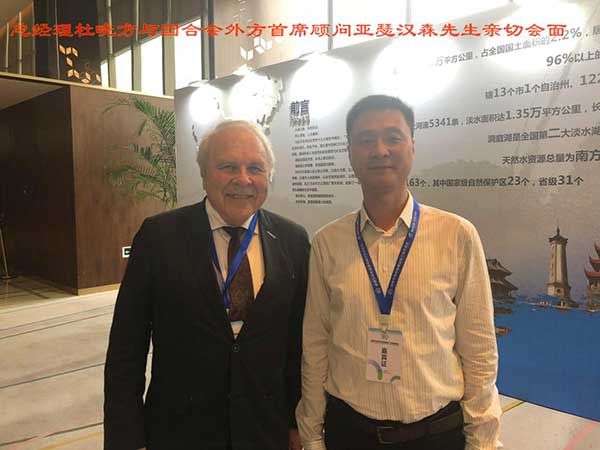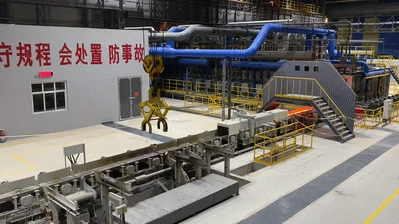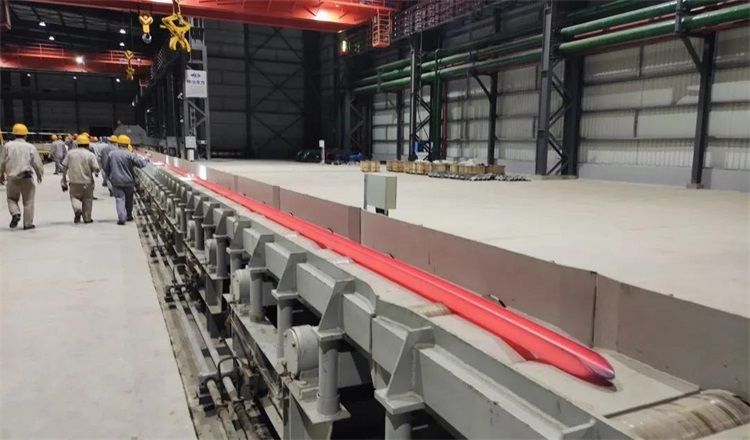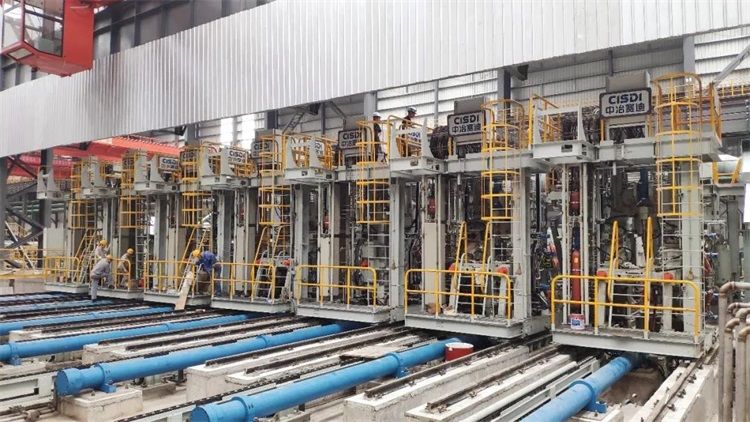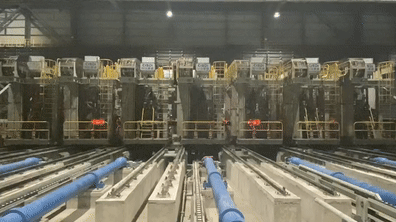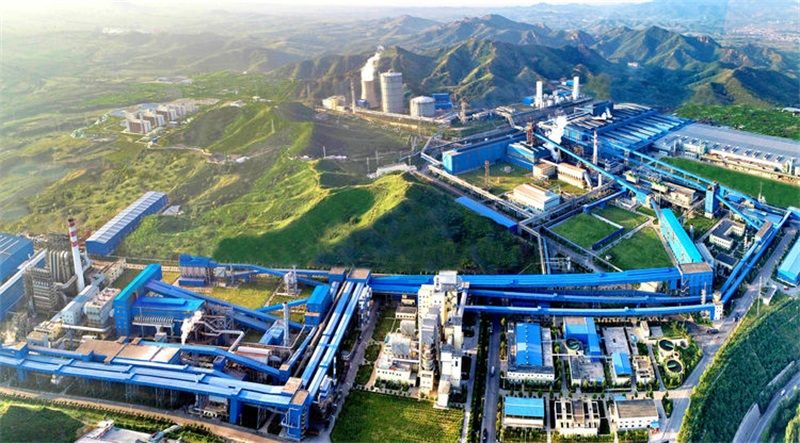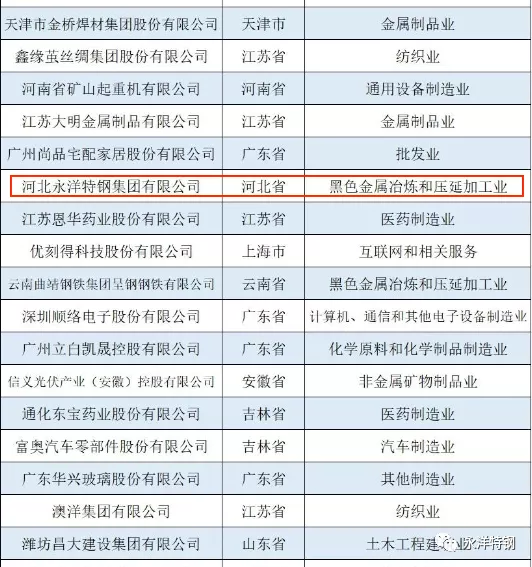 Hebei Yongyang Special Steel Group Co., Ltd. is a designated manufacturer of support products for China's coal industry, and a designated partner of China National Heavy Duty Truck, Dongfeng Automobile and other well-known domestic automobile spring steels. In recent years, Yongyang Special Steel adheres to the road of technological innovation, closely combines research and development with equipment upgrading, and gradually becomes a special steel enterprise dominated by the production of alloy structural steel, spring steel, and carbon structural steel. The company's fully automated light rail universal rolling mill production line was successfully completed and put into operation on September 6, 2020. This production line has achieved a breakthrough in the localization of closed arch type universal section rolling mill equipment, broken the situation that similar core processes and equipment technologies have long been dependent on imports, improved the level of steel services for high-end manufacturing, and strongly promoted China's rail steel production process and equipment technology to the world's leading level.